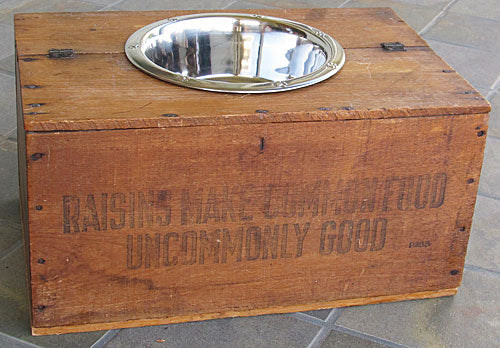 California Raisin Vintage Wood Crate Recycled Dog Feeder Sun Maid Fresno CA
I can't help but smile about this unique eco-friendly repurposed genuine vintage wooden shipping crate upcycled into a dog feeder.  Elevate your dog's food or water source to minimize joint stress and keep their food or water off the floor.  This California Raisin vintage crate is perfect for primitive, shabby chick or country interiors. Fantastic original stamping and the original hinged box lid.
Features:
One (1) 2 quart stainless steel bowl embossed with dog paw prints. Easily removed for cleaning.
Feeding station top has been polyurethaned to protect it from canine use.
Foam gasket has been applied to stabilize the dog bowl and protect the storage compartment.
Vintage crate has been hand waxed to warm luster.
Generous sgtorage inside for dog good or other canine accessories.
Eco-friendly, recycled, upcycled and re-purposed genuine vintage crate.
Crate Details:
On the Front - Market Day Special
On the Back - Raisins make common food uncommonly good
On the Right Side - Eat Raisins; Grown and Packed in California, U.S.A. P117
On the Left side - Market Day Special; 16-2 lb Packages Seedless Raisins; Packed by Sun-Maid Raisin Growers Association; Head Office Fresno California USA
Size:  8 5/8" tall x 17" wide x 11 1/4" deep
Condition: Very Good
Price includes shipping to US addresses.