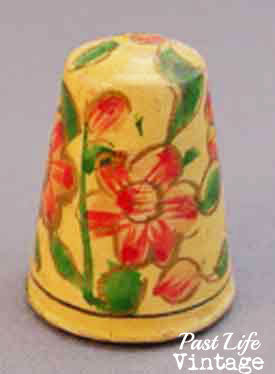 Vintage Hand Painted Wooden Thimble Set of 3 Different Floral Designs
Unusual set of three (3) wooden thimbles with hand painted designs perfect for anyone who collects vintage sewing items.  All three are vintage 1970's and came from an estate of people in the US Foreign Service who spent time in Thailand, Morocco, and Hong Kong..
Thimble 1 has a design of trailing flowers with unusual black interior.  Size: 1" high; 14mm interior.
Thimble 2 has a gorgeous intricate leaf design in metallic gold.  Size: 1" high; 3/4" at widest.
Thimble 3 has a hot pink flower design on black. Size: 1" tall; 7/8" in diameter at widest.
Condition:  Excellent
Price includes shipping to the US..