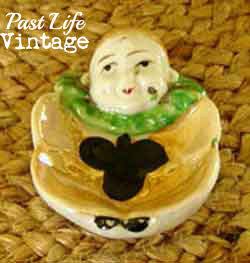 Clubs Clover Bridge Game Ashtray Vintage Japan Tobacciana
Once a part of a set designed for the bridge club ladies to have individual ashtrays, this cutie is solo now.  Chubby of cheek with a green ruffled collar, this clown is clearly marked with a club symbol.  Of course, you could choose to believe that's a lucky clover.  Very pretty color in this vintage lusterware ashtray. Bottom clearly marked Made in Japan.
These little ashtrays are great to use for rings and other small jewelry items, paperclips on your desk or simply to add charm to your vintage home decor.
Size: 2 1/8" wide x 1" high x 2 5/8" deep.
Condition: Very good with no chips or damage observed.
Price includes shipping to the US..