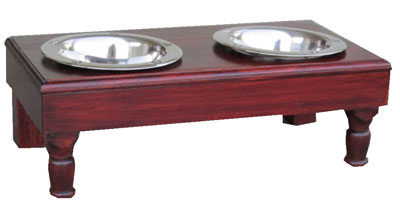 Small Magogany Pet Feeder Handcrafted
Handcrafted dog feeding station is fido friendly and stylish home decor. Elevate your dog's food and water source to minimize joint stress and keep their food and water off the floor. Would work equally well for cats.  This feeder is handmade from pine with a mahogany wood stain finish. Pretty spool turned legs in front. Fancy routed table top edge.
Features:
Two 1/2 quart stainless steel bowls with embossed paw prints. Easily removable for cleaning.
Top surface has polyurethane protection.
Foam gaskets applied to stabilize the bowls.
Size:  5 1/4" tall x 16" wide x 8" deep.
Condition: Excellent
Price includes shipping to US addresses.