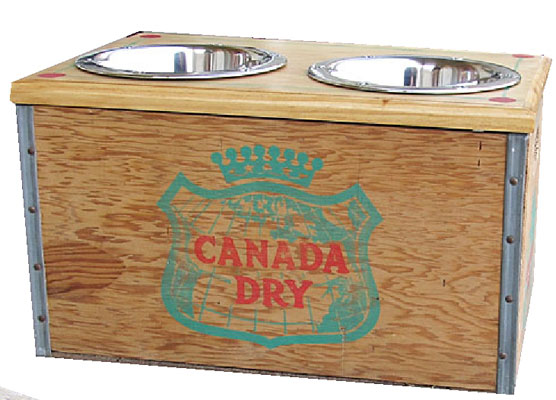 Canada Dry Vintage Wood Crate Recycled Dog Feeder Great Graphics
Unique eco-friendly repurposed genuine vintage early Canada Dry wooden crate dog feeding station. Canada Dry original product.  Absolutely spectacular early Canada Dry graphic logo in green and red. Intact original metal strapping reinforces this box. Crate top has been hinged to provide for interior storage for pet supplies, dog leashes, dog food and treat packages or what have you.
Elevate your dog's food and water source to minimize joint stress and keep their food and water off the floor. Great accessor4y for mid century modern, primitive or country style decor.
Features:
Two charming 1 quart stainless steel bowls are embossed with dog paw prints. Easily removable for cleaning.
Feeding station tip is hand crafted pine with a golden oak stair to coordinate with this crate. We then added hinges to provide for interior storage. The top has been hand detailed with coordinating graphics and polyurethaned for protection.
Foam gaskets have been applied to stabilize the dog bowls and protect the storage compartment.
The crate has been hand waxed to a warm luster.
Generous storage space inside for dog food or other canine accessories.
Eco-friendly, recycled and repurposed.
Crate Details:
On the front and back - Canada Dry graphic logo
On the right and left sides - Canada Dry graphic logo;  Return for Deposit Refund
Size:  9 1/2" tall x 16 1/23" wide x 11" deep
Condition: Very Good
Price includes shipping to US addresses.