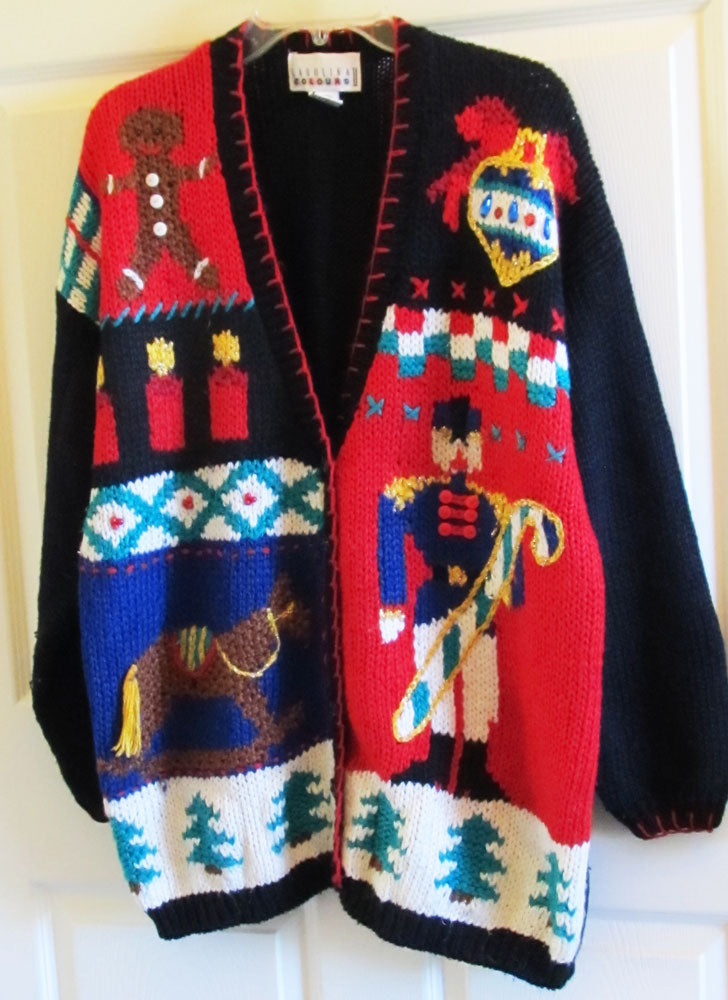 Vintage 80s Christmas Cardigan Sweater Sz 20 Women's Pony Soldier Candles Free Shipping
Vintage 1980s Christmas cardigan sweater is filled with holiday cheer and shoulder pads!  No appliques, these designs are all knit into the sweater: gingerbread boy, candles, rocking horse, Christmas trees, ornament and toy soldier.  Embellished with beads, buttons, crystals and some large scale yarn embroidery.  Major color is black with red, royal blue, green, gold, white and more. Buttons are black with Christmas pine trees painted on them.  Tag reads Carolina Colors II.  Size 20W40. 55% ramie, 45% acrylic.  Hand wash in cold.   Rock some authentic 1980s holiday fashion at your next Christmas party.
Size:  Women's size 20 / 40.  Bust 52"  From shoulder seam to edge of bottom 32"  Sleeves from shoulder to wrist edge 23".
Condition: Very good for it's age. Fairly gently worn. A little pilling and fuzzing.Both shoulder pads are present.
Free shipping to US addresses