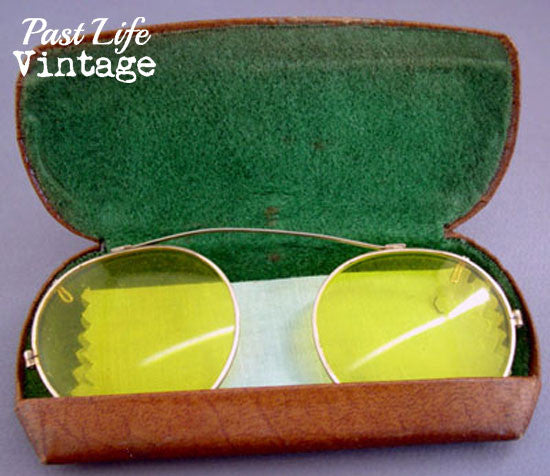 Rare Vintage Bausch Lomb Ray Ran Yellow Kalichrome Clip On Sunglasses
Vintage Bausch & Lomb Ray-Ban clip on sunglasses feature yellow Kalichrome lenses, quite rare in clip on style.  They are impressed B & L trademark under the nose bridge.  The C Yellow Kalichrome lenses were originally called Shooters and introduced by Ray-Ban in 1938 for pilots. They were also prized by outdoorsmen. Most were made with 10, 12, or 14 k gold plate. 
These sunglasses are from the 1940's and come complete with their original cotton cleaning wipe and a hard shell leather case.  Case is clearly marked Bausch & Lomb Ray-Ban Anti-Glare Made in USA.
Size:  Outside dimension of case: 4 4/8" x 2 1/8".  Each lens is 1 3/4" side.  Sunglasses are 4 1/8" at rest (adjustable)
Condition: Very Good.  Eyeglass case has a bit of wear on the corners; green felt lining is intact.  Clip on sunglasses have very minor abrasion.  We leave cleaning to your discretion.
Price includes shipping to the US..