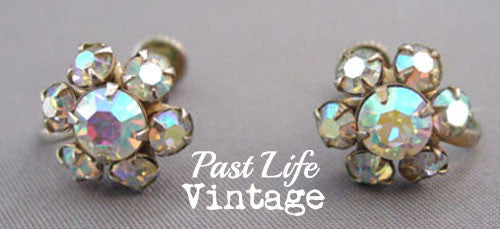 1950's Rhinestone Flower Earrings Mid Century Jewelry
Lovely mid century vintage earrings! Beautiful flower design of 6 smaller rhinestones as petals surrounding a larger rhinestone center.  Spectacular flash and sparkling rainbows of color pick up whatever colors are nearby.  Unmarked.  Vintage late 1940's / early 1950's.
Size: The "flowers" measure not quite 5/8" in diameter. Small rhinestones are 4mm; larger are 6mm.
Condition: Good - long prongs on the rhinestone settings are secure. There's a bit of wear on one of the base metal earring findings. Note: we have not cleaned these earrings and leave that to your discretion.
Price includes shipping.