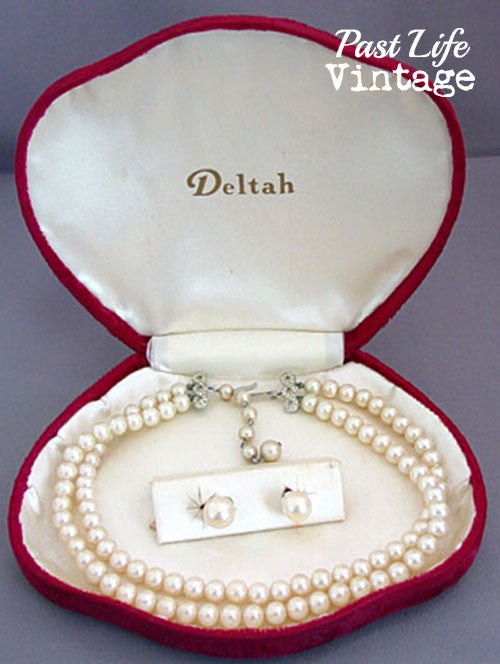 Mid Century Deltah Pearl Necklace Earrings Set Original Velvet Box
Fans of Mad Men and Mid Century Modern, just look at this beautiful late 1950's / early 1960's Deltah pearl necklace and earring set!  Complete in their original scarlet red velvet clam shell presentation box.  Double strand necklace has gorgeous rhinestone decorated closure. All those tiny stones are present and accounted for.  Necklace clasp is a hook clearly marked Deltah.  Earrings are screw type with large pearls. Clam shell box is lines with satin and clearly labeled.  These would be dreamy for a bride who delights in vintage.
Size: Necklace measures 13 1/2" to 16".  Earring pearls measure 10mm.  Presentation box measures 6" x 5" x 1 1/4".
Condition: Very good - One earring's pearl looks like it has been re-glued to finding. Slight foxing on satin presentation box lining and a bit of wear marking on the velvet. Note: we have not cleaned this set and leave it to your discretion.
Price includes shipping to the US..
Notes: What do Loretta Young, Olivia de Havilland, Elizabeth Taylor, and Rita Hayworth have in common? All are members of a select groups of famous stars of the silver screen who endorsed Deltah pearl jewelry in the 1940's and 1950's.
Deltah's history can be tracked back to 1892 when M. J. Karpeles established his company specializing in pearl jewelry.  Purchased by L. Heller at the turn-of-the-century, in the '50s, Heller merged with Sperry Corp. and the company was renamed Heller-Sperry. Heller-Sperry sold Deltah to Tevia, Gilbert and Elliott Sachs in the '60s. At that time, the brothers changed the company name to Pearls by Deltah. In 1971, Pearls by Deltah was purchased by its present owners, The Bazar Group

Joseph Gladstone found Imperial in 1917. In 1941, he named the company Imperial Pearl Syndicate. Throughout the '40s, he created brand recognition by recruiting Hollywood's finest, including Elizabeth Taylor and Rita Hayworth. In 1969, Joseph Gladstone sold the company to Sidney Weiss, who then sold it to Waltham Watch Company in 1971. In 1977, the company was bought by its present owners, The Bazar Group.

On June 1, 1995, Imperial Pearl Syndicate and Pearls by Deltah were merged to form Imperial-Deltah, Inc. Today, they are one of the world's leading pearl companies.