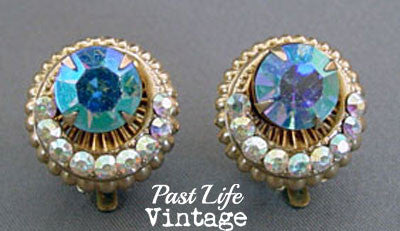 1960's Rhinestone Crescent Earrings Mid Century Jewelry
Big rhinestones are accented with a crescent of smaller rhinestones on these pretty vintage 1960's earrings.  Large rhinestones are held by prongs; small stones appear to be glued.  The large stones seem to have an AB finish which give them a bit of a blue underglow; small ones do not. Base metal mid century earrings are clip on.
Size: 3/4" in diameter
Condition: Very good - no missing stones and none appear to have ever been re-set or re-glued.
Price includes shipping.