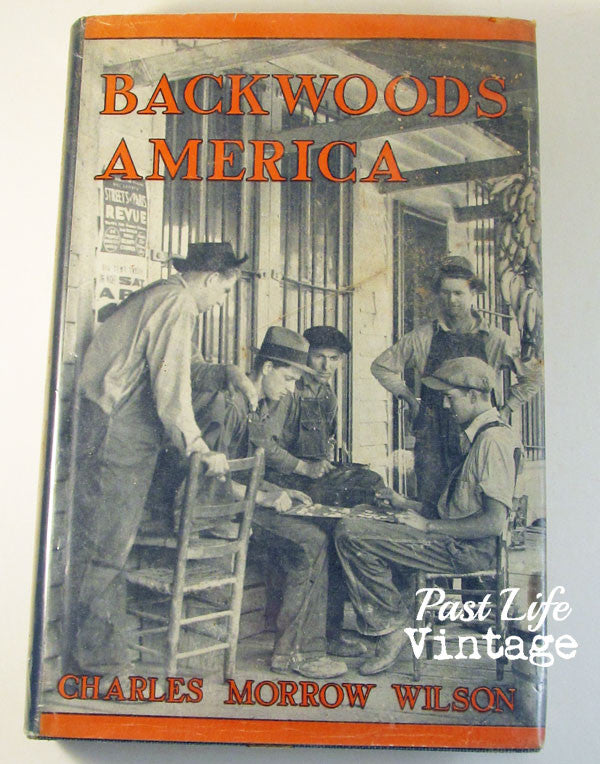 Backwoods America by Charles Morrow Wilson 1935 Hardback Rare Country Life Essays
Backwoods America by Charles Morrow Wilson with illustrations by Bayard Wootten. Published by The University of North Carolina Press in Chapel Hill.  ©1935. This is a March 1935 second printing edition. Hardback. Former library book last checked out in 1962.
Describes country and small town life during the Great Depression including: moonshiners, language, folk tales, mountain music, morality, humor and more. Many photographs.
From the back cover:
"Backwoods America where the landholder plows his cleared fields and chops weeds with the hope of having snap beans and batback simmering in the pot and a ham or two hanging in the smoke house. His wife cooks, churns, makes the clothes and does the washing, and they both have plenty of time to sit in the sun.
All in all, even though bathtubs and electric lights and many other gadgets are lacking, as Mr. Wilson portrays it there is a roundness and fullness, a jovial ruddy healthiness in backwoods American that fades away in towns and cites."
Size: 5 3/4" x 8 3/4"
Condition:  Good - small town library book shoes normal wear and age. Book jacket in excellent shape on the front due to clear cellophane/plastic covering. However, there is a tear on the back. No writing or marks on the interior of the book, but you'll see old scotch tape marks on the flyleaf both front and back.
Price includes shipping.
.